Dr. Neville George Callam 2018 Commencement Speaker
April 4: Palmer Theological Seminary of Eastern University is excited to announce Dr. Neville George Callam as the May 11, 2018 commencement speaker. In 2007, Neville George Callam became the first person from the Global South to be appointed as the general secretary and chief executive officer of the Baptist World Alliance, thereby becoming the first church leader from the Caribbean to lead a Christian World Communion.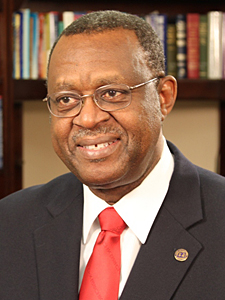 Dr. Callam has lectured at the Jamaica Theological Seminary, United Theological College of the West Indies, and the Jamaica Institute of Management. He served as Chairman of the Board of Management of the Calabar High School in Kingston and as member of the Board of Governors and Education Council of the United Theological College of the West Indies. He served on evaluation teams for theological seminaries on behalf of the University Council of Jamaica, the accreditation body for colleges and universities in the country. Additionally, Dr. Callam has been author and editor of several books, the most recent being Pursuing Unity and Defending Rights: The Baptist World Alliance at Work (2010), Dr. Callam has made presentations at fora, symposia, seminars, workshops and services of worship in more than 70 countries. He was one of the electoral observers serving on behalf of the United Nations in the elections in South Africa in 1994, which saw Nelson Mandela become President.
Palmer's 93rd annual commencement will take place on May 11, 2018 at 5:00 p.m. at Enon Tabernacle Baptist Church, located at 2800 W. Cheltenham Ave., Philadelphia, PA 19150. Tickets are not required for admittance to the ceremony. Graduates must report to the Family Life Center by 3:30 p.m. for robing, class photo and lineup. Commencement livestreaming will be available during the event for those unable to attend. More information may be found at palmerseminary.edu/commencement.
For questions or comments please contact Sharlene Joseph-Brown, Executive Assistant to the Dean, at 484-384-2935 or sjosephb@eastern.edu.