The Frank B. Mitchell, Jr. 41st Lectureship
Friday, February 4, 2022 at 10 a.m.
Event will be offered virtually- Register Online Now!
Join us as we celebrate 41 years of distinguished African American scholarship honoring the legacy of the Rev. Dr. Frank B. Mitchell, Jr. Our 2022 theme is "When Normal No Longer Exists: Constructing New Paradigms for Pulpit and Pew".
Celebrating 41 Years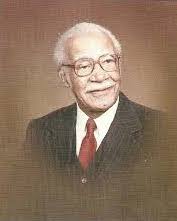 The annual Mitchell Lectureship is the keystone lecture of Palmer Theological Seminary's celebration of African American History Month. It is named in honor of the Reverend Dr. Frank B. Mitchell, Jr., pastor of Pinn Memorial Baptist Church for over 40 years. Over the years of his ministry, he was responsible for guiding many new ministers into service. He directed many of them to Eastern Baptist Theological Seminary (now Palmer Theological Seminary) for their training. Each year, Mitchell Lecturers are invited to address issues relevant to the Church through the perspectives of African American theology and culture.
Guest Lecturer
Rev. Dr. Teresa L. Fry Brown
Bandy Professor of Preaching
Candler School of Theology
Emory University, Atlanta, GA