Celebrating 35 Years of Mitchell Lecture Scholars & Preachers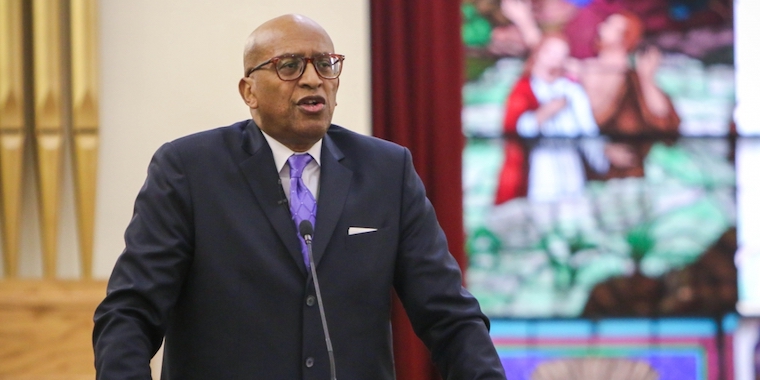 The last 35 years have attracted larger-than-life preachers and expositors of black theology, multiculturalism, and social justice advocacy. The main attraction, known as the Frank B. Mitchell Lectureship, was founded to honor the legacy of the late Rev. Frank B. Mitchell.
The lectureship, hosted by Palmer Seminary of Eastern University, has attracted thousands of people beginning in 1981 with author, lecturer, and liberationist theologian, James H. Cone, who, at that time, published his theological masterpiece, God of the Oppressed.
In keeping with the long history of influential black speakers at the Mitchell Lectureship, it was only fitting to celebrate 35 years at Salem Baptist Church of Jenkintown, PA, where Martin Luther King, Jr. spoke in 1963, and where one of Frank B. Mitchell's sons, Rev. Marshall Mitchell, is senior pastor.
Rev. Dr. Alvin O'Neal Jackson, pastor of Park Avenue Christian Church of New York City, gave the keynote address to a crowd of about 500 calling the church to be both/and people—to be "unapologetically Christian and unashamedly secular." Quoting Jeremiah 29:7, Jackson urged Christians to be seekers of welfare, saying that "individual welfare and the welfare the city is inextricably linked. You will find your welfare if you fight for the welfare of your city."
In one word, Jackson summarized how the church has evaded the moral insights and ethical demands of Jesus—worship. "We deify him, but decimate his dreams. We distance ourselves from his claims. We dress him up in metaphysical creeds. We pray to him, sing to him, shout his name and honor him. We do anything but follow him," he said.
Jackson's challenge to the church? "Open your doors; don't build fences. We have service and love to provide."