Courage to Reconcile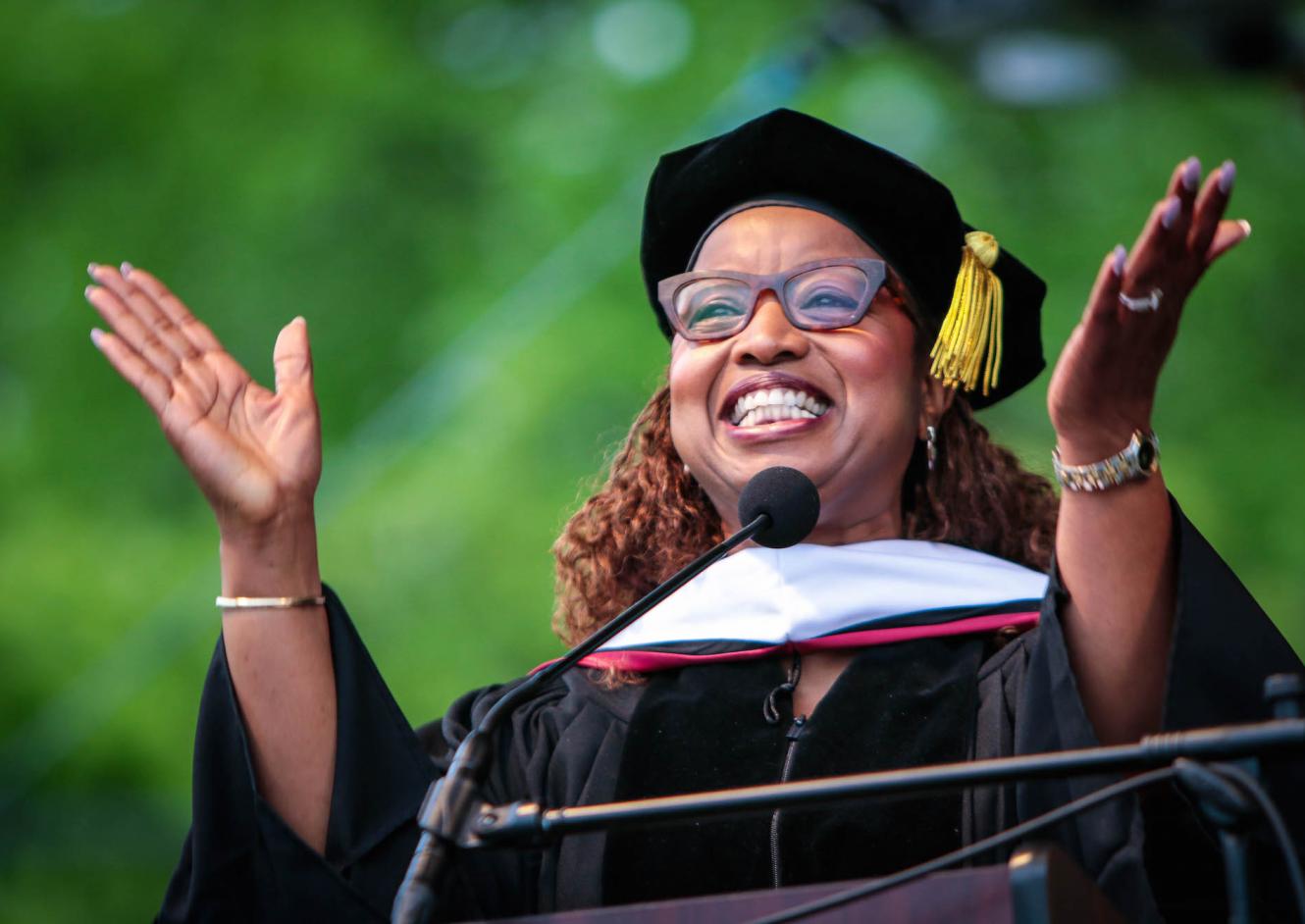 In her opening remarks, 2017 Commencement speaker Reverend Dr. Brenda Salter McNeil DMin '00 DD '17, told the graduates "I want to speak directly to you about what it means to be 'Courageous Christians in catalytic times.'" Rev. Dr. McNeil gave the example of Captain Chuck Yeager, the pilot who broke the sound barrier after many who tried before him had tragically failed, some even losing their lives. She continued saying, "here, on your graduation day, you're about to begin the journey of breaking through your own sound barriers into the unknown. And it doesn't come easy, it requires a lot of courage."
Rev. Dr. Brenda Salter McNeil DMin '00 DD '17 knows how to demonstrate courage. With over thirty years of experience, she is a leader in the ministry of reconciliation. As a dynamic speaker, author and professor, her stated mission is to inspire, equip and empower emerging Christian leaders to be practitioners of reconciliation in their various spheres of influence around the world.
She is an Associate Professor of Reconciliation Studies in the School of Theology at Seattle Pacific University, where she also directs the Reconciliation Studies program. She previously served on the staff of InterVarsity Christian Fellowship for fourteen years as a Multiethnic Ministries Specialist.
She earned a Master of Divinity degree from Fuller Theological Seminary, a Doctorate of Ministry '00 from Palmer Theological Seminary and was awarded a Doctorate of Humane Letters from both North Park University and Eastern University. She is an ordained pastor in the Evangelical Covenant Church and is on the pastoral staff of Quest Church in Seattle. In addition, she serves on the Board of Directors for InverVarsity Christian Fellowship USA and formerly served on the Board of Wycliffe USA.
Dr. Salter McNeil was featured as one of the 50 most influential women to watch by Christianity Today in 2012. She is also the coathor of The Heart of Racial Justice and the author of A Credible Witness and her most recent work, Roadmap to Reconciliation.
She is married to Dr. J. Derek McNeil ('78) and they are proud parents of two young adult children.
So you might be thinking, "What exactly is the ministry of reconciliation?" On her website, saltermcneil.com, Dr. Salter McNeil has robust and very user friendly resources and teaching tools. In these materials she defines reconciliation as: an ongoing spiritual process involving forgiveness, repentance and justice that transforms broken relationships and systems to reflect God's original intention for all creation to flourish (Dr. Brenda Salter McNeil copyright 2012).
Dr. Salter McNeil states that reconciliation starts with honest, vulnerable and personal conversation and she provides four ground rules to help people engage in the reconciliation process which include:
Use "I" statements
No interrupting
Maintain confidentiality
Be full present
Her website also includes 22 Action Steps for Racial Righeousness filled with practical and doable steps such as "Vote for political candidates that support economic justice and racial righteousness" and "Volunteer to serve in a non-profit organization that promotes racial equality."
I recently had the opportunity to ask Dr. Salter McNeil what led to her work in reconciliation and she replied, "My personal call to the work of reconciliation started with a burning question. During my last year at Fuller Theological Seminary, I became an intern at Occidental College. In this role, I was given an opportunity to fucs my ministry at Occidental on anything I was interested in. I was drawn to Gener/Women's Ministry initially, but once I discovered that Oxy's thriving Christian community of 200 students had only two students of color, I found myself pulled in a different direction. That was when I started asking myself questions like: What is it about Christian communities that cause students of color to not relate? Where are they? How do we repair the bridge that divides? That was the beginning of my journey into the ministry of reconciliation."
It seems she may have been drawing on her own personal experience when, in her commencement address, Dr. Salter McNeil advised the class of 2017 "to break through the sound barrier into this new reality that God has for you after graduation. You will need the courage to engage the complexity and diversity of the world around you, including nationality, gender, social class, age, ethnicity, politics and religious traditions in the world around you. And that's scary! You will be tempted to play it safe and stay in your comfort zone where things feel safe and familiar. But I'm convinced that's not where God wants us to be. That's why catalytic events have to take place to move us from where we are to where God envisions for us."
I was curious to know how Palmer Seminary may have influenced Dr. Salter McNeil's current endeavors and she replied, "Interestingly enough, the book I wrote entitled Roadmap to Reconciliation began as my dotoral project at Palmer Seminary! The Doctor of Ministry is a very practical degree. My thinking and understanding of reconciliation was forged and shaped during my doctoral work, and eventually became more fully developed in the Model of Reconciliation which is the heart of the book. My studies at Palmer greatly shaped and informed me as a minister, consultant and thought leader of reconciliation."
In these turbulent times in our country and world, the work of reconciliation seems to take a fierce courage. When I asked Dr. Salter McNeil where she found the courage for her work she said, "That's where the Holy Spirit comes in. I once heard it said that, 'Faith is fear that has said its prayers' and I believe that. What people see as courage is really my commitment to the path of discipleship. It is faithfully trying to follow what God has called me to do. It's not that I'm braver or more courageous than others. Discipleship is one faithful, fearful step at a time. I'm just being obedience to God. I am currently writing a book about Esther. I see in Esther an example of the kind of bravery that I believe God is calling people to. Let me tell you a little story: many years ago when I left InterVarsity and started my own 501c3 ministry, I knew I would be focusing on reconciliation, but I was focused on a lot of other things too. Because I was too diffused, I had a hard time raising money. It was difficult to explain everything I did to donors. A wonderful consultant guided me to focus on a single issue, and he encouraged me to concentrate solely on racial reconciliation. Like Esther I thought, 'I don't want to do it. Why racial reconciliation?' I knew I needed to seek God and went on a fast. During that fast I clearly heard the Holy Spirit remind me of these words from Esther, 'if I perish, I perish'. So, like Esther, I went for it and instead of killing my ministry it actually launched me into everything I am doing today!"
Dr. Salter McNeil left the 2017 graduates with these final words, which can be a call and an inspiration for us all to strive to be courageous Christians, "The role of courageous Christians is to discern the difference between a catastrophe and a catalytic event; and then to interpret what's happening around us through the eyes of faith and not fear. You are graduating in catalytic times, both in our country and around the world. The dramatic changes taking place in our social, political and global contexts are calling for you to be courageous Christians who press pass the sound barriers in society that prevent us from breaking into the new reality of the Kingdom of God. It won't be easy! Some people, even Christians, won't believe it's possible. But you will need to hold on tight and refuse to succumb to the divisive social and political rhetoric that seems to suggest that a world of unity and equity just can't be done! Instead, may you, the graduating class of 2017, be the generation that is empowered by the Holy Spirit to press through the resistance to break into the multi-national, multi-lingual, multi-ethnic kingdom of God where all people flourish and reach their God given potential! Amen."