Dean David Bronkema Featured on Bridges 4 Mission Podcast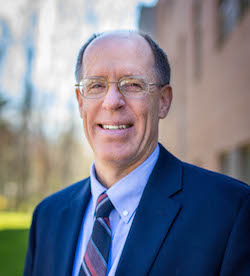 Palmer Theological Seminary Dean Dr. Bronkema was featured on Bridges 4 Mission Podcast (B4M), a podcast series produced by Short-Term Missions of International Ministries that centers around answering questions and bringing light to the world of missions. Dean Bronkema's episode, titled "The power of prayer leading you to the mission field," was aired on Tuesday, October 13, 2020.    
According to the B4M podcast description, "We interview a diverse group of servants working in a variety of capacities around the world. Volunteers, Theologians, Ministers of the Gospel will explore the rapidly changing world of Short-Term Missions (STM) and how being incarnational manifests itself in very unique ways. We hope that this new B4M Podcast will invite you into seeing possibilities of being the hands and feet of Christ." 
Listen to Dean Bronkema's interview on the B4M podcast:
About Palmer Theological Seminary
Palmer Theological Seminary is a Christian seminary offering a wide array of master's, doctoral, online, and certificate programs. Palmer's main campus is located in St. Davids, PA. As one of the most diverse seminaries in North America with a creative, caring, and experienced faculty, Palmer equips students to bring "The whole gospel, to the whole world, through whole persons." For more information visit palmerseminary.edu or contact Kelly Goddard, Director of Marketing and Communications: kelly.goddard@eastern.edu.