A Spirit of Grace & Peace: Introducing Palmer's New Interim Dean Rev. Dr. Kimberlee A. Johnson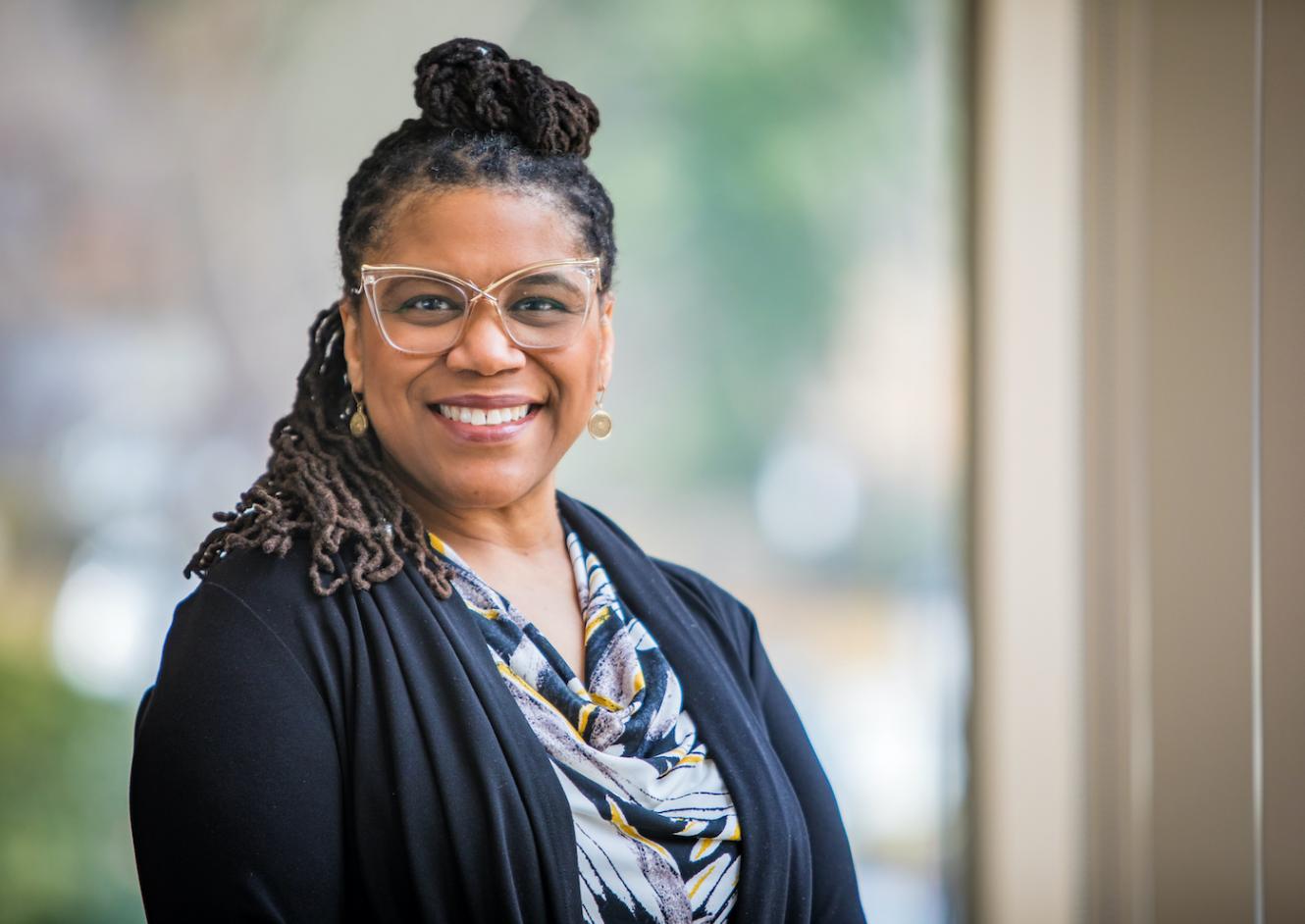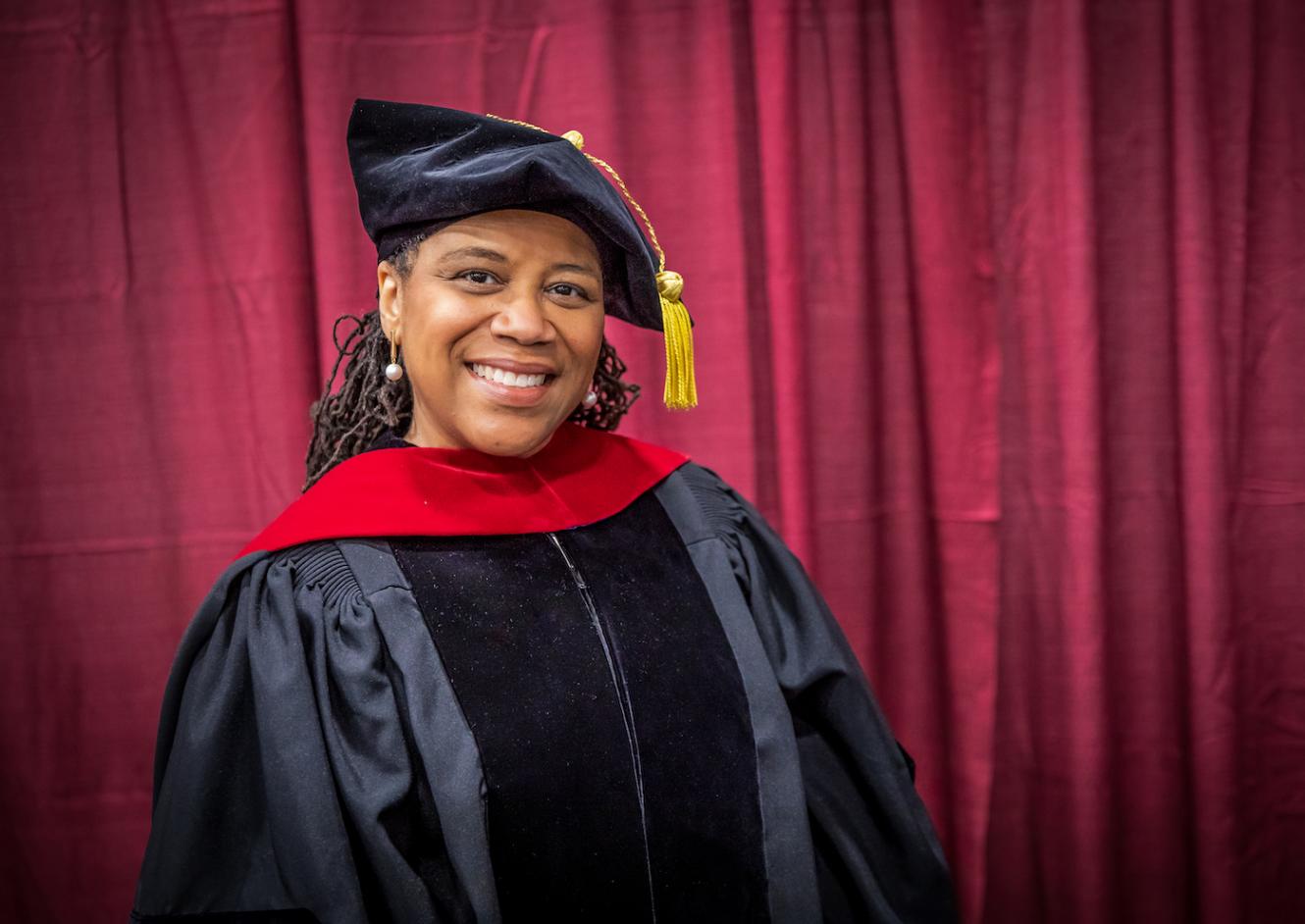 You may have heard her preach, teach or advocate. Maybe you've experienced her bright smile and bold, yet communal spirit via Zoom or in-person. She is respected as a prophetic preacher and community leader with a special call to model Jesus by coming alongside the marginalized of society. 
The Eastern community has had the honor of experiencing the fruits of the work that Rev. Dr. Kimberlee Johnson, affectionately known as "K-lee" to her colleagues and Dr. Johnson or Dr. J. for many like me, who have had the pleasure to call her "professor." She is a mission and justice-minded woman of many gifts, passions, and experiences with over 30 years of ministry experience and 24+ years of higher education experience under her belt. She has done ministry in the U.S. and abroad, served people from various socio-economic and multicultural backgrounds, founded a nonprofit religious organization for clergywomen, and has engaged in activism, criminal justice reform, and other social justice efforts at the local and national level as part of her call to Christian discipleship.
At Palmer Theological Seminary, we are delighted to now be able to  introduce her as the newly appointed Interim Dean. The importance of this appointment is inextricably tied to a historical moment as we stand 96 years after the founding of what once was Eastern Baptist Theological Seminary. In fact, Dr. J. worked for EBTS in the 1990s in the seminary's Urban Studies Department and as a research assistant. Today, we continue in the path of sharing the Whole Gospel to the Whole World through Whole People with the representation of the first black woman dean at Palmer Theological Seminary. 
Dr. Johnson is no stranger to being the "first." She was the first woman ordained at Tasker Street Missionary Baptist Church (American Baptist Churches USA), where she went on to serve in several leadership capacities, including Lead Minister during the pastor's prolonged leave of absence, and Christian Education Director. She has decades of ministry experience spanning across various socioeconomic, cultural, national, and denominational contexts, and has made great strides in higher education as well. She has an exemplary academic career which includes teaching high school, undergraduate, and graduate students, development of new programs, and departmental leadership. 
Dr. Johnson brings a dynamic vision with a primary focus on thriving. Being the vegetable gardener that she is, her stewardship for life and growth will be well nourished at Palmer Seminary. She shares, "It is a privilege to serve PTSC and I pray that my life and work will be a blessing. I plan to connect with the program directors, staff, and full -time faculty (one-on-one), and intend to meet with students, adjuncts, and Palmer constituents as well. Listening to and learning from you is a priority. Supporting you is a priority. Working with you to help Palmer thrive is a priority. As the Spirit leads, let's do it!"
In addition to thriving, Dr. Johnson shares her desire  to focus on the principles of informing, investing, innovating, and strategizing. Dr. Johnson's background, passion for ministry, God, and people will ring loudly for all to hear as we experience the ripples of peace and grace. We warmly welcome and delight in the presence of the spirit of God that takes pleasure in the heart and work of Dr. Johnson. Welcome home, Dr. J!
About the Rev. Dr. Kimberlee A. Johnson
Dr. Johnson is a native and resident of Philadelphia, PA with a BA in English from St. Joseph's University, MA in Old Testament and MDiv in Counseling from Biblical Theological Seminary (now Missio), and a DMin in Urban Missiology from Westminster Theological Seminary, and a number of certifications and educational experiences at other institutions. Dr. Johnson is an educator, administrator, passionate preacher, social justice advocate, and clergy leader whose love for God and humanity have fueled a lifetime of service in academic, church, and community settings. She has served in higher education since first joining the Eastern Baptist Theological Seminary staff in the 1990's and in 1997 she joined Eastern University as its first Coordinator of Service Learning and Campus Ministries (and Missions). She has served in numerous capacities including Program Director of the BA and MA in Urban Studies, Coordinator of the Urban Immersion Program, Director of Student Leadership and Formation, Urban Studies Department Chair, and faculty in Youth Ministry and Urban Studies. 
Dr. Johnson is also the founder and Director of the Prison Education Program, which was birthed as a result of her research on ways Christian higher ed institutions can address the problem of mass incarceration and be a redemptive tool. She coordinates many local events and training opportunities in her role as Director of the Center for Community Engagement. She has been an advocate and commentator at the national level on matters of faith and criminal justice reform. She has served as a policy leader for the Christian Community Development Association's (CCDA) Locked in Solidarity initiative, a board member for faith based organizations such as Bridge of Hope National (a ministry to homeless moms) and Christians for Social Action, and is currently part of the national leadership network of Red Letter Christians. She is also co-editor of the Journal of Urban Mission.
Sanovia Garrett, MA '18, Sanovia is a resident instigator, sparker, and innergizer of all things joyful and authentic. She loves the creative arts. She is a performing artist, entrepreneur, and the social media and communications manager for Palmer Theological Seminary.