Palmer People: Wanda Harris Cooper's Journey to Seminary
Wanda Harris Cooper first considered seminary in 2012. At the time, many around her encouraged her in a different direction. She began pursuing an MBA with Eastern University in 2014. Yet the sense of prompting and calling to seminary continued. In 2017, she committed herself to spending the 2017/2018 academic year to prayerful discernment before she spoke with any seminaries.  Continual conversation with her presbytery (PCUSA) played a significant role in the process, and finally she was ready to say "Yes" to seminary. The next question was "Where?" 
Wanda chose Palmer for several key reasons. First, a student at the time described Palmer to her as having a broad theological scope, a melting pot of traditions. Not only that, Palmer was the only seminary she explored that would embrace her role as a part-time student and working adult learner. She began her M.Div with the seminary in September 2019. 
"The experience has been so eye opening," Wanda says. "Faculty reach down," she continues, describing how professors are intentional with every individual student in and out of the classroom. Along with faculty, her fellow students each bring different perspectives and theological traditions. The "theological melting pot," as she refers to it, brings about growth and transformation in and through whole persons as she witnesses the Gospel lived in different ways. It is a place where iron sharpens iron!
As she anticipates graduating in 2025, Wanda does express some fear around the everpresent questions "What am I doing? Why am I doing it?" But she emphasizes that her call is to be obedient to God, and to be bold and unapologetic in her faith. Ultimately, echoing Paul's words in Roman 8:28, Wanda says "The sum of everything will be greater than the fear. Nothing will be discarded."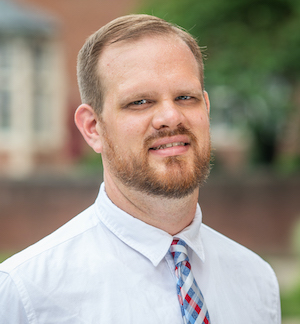 Dan lives with his wife, Libby, in Phoenixville, Pennsylvania, and graduated from Palmer Theological Seminary with his Master of Divinity in 2018.  He now serves full-time as the Director of College and Young Adult Ministries with the Church of the Good Samaritan in Paoli, PA on the campuses of Eastern University and West Chester University. He also serves as a Chaplain and Seminary Storyteller for our Center for Alumni Care and Seminary Engagement.