Remembering Dr. J. Deotis Roberts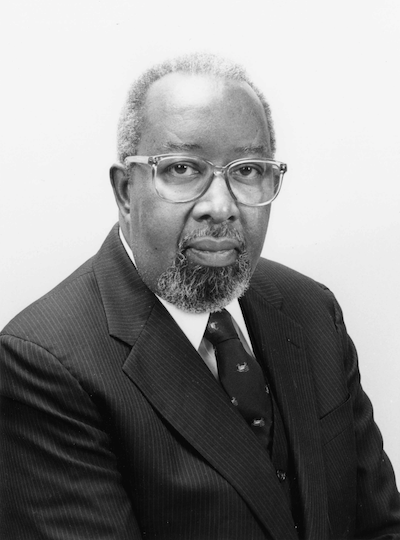 Palmer Theological Seminary and Eastern University join together in honoring the life and legacy of J. Deotis Roberts, Distinguished Professor Emeritus of Philosophical Theology, who passed away Tuesday, July 26 at age 95. 
J. Deotis Roberts was born July 12, 1927 in Spindale, North Carolina, to J.C. and Edith Roberts. He earned a Ph.D. in Philosophical Theology in 1957, and later received a Doctor of Letters Degree, both from the University of Edinburgh. Roberts also received degrees from Johnson C. Smith University (Bachelor of Arts), Shaw University Divinity School (Bachelor of Divinity), and Hartford Seminary (Master of Sacred Theology). He was a leading voice and architect of Black theological discourse in the late 1960's known as the Black Theology movement, whose most notable public figure is James Cone. As a highly respected and first generation African American theologian, Roberts offered a critical response to the early works of James Cone, particularly Cone's Black Theology and Black Power. In addition to this work, Roberts taught at several universities, training generations of scholars at educational institutions around the world including Howard University, Yale University, Duke University, Eastern Baptist (now Palmer) Theological Seminary, and the International Baptist Theological Seminary in Buenos Aires, committing much of his life to training leaders for the church and academy.
Dr. Roberts served as the fourth president of the Interdenominational Theological Center from 1980-1983.
Outside his role as ITC President, Roberts held different administrative posts, most notably as the first and only Black president of the American Theological Society, also being one of its earliest African American members. J. Deotis Roberts authored more than fourteen books and more than one hundred scholarly articles. 
Dr. Roberts was founder and president of the J. Deotis Roberts Research Library and Institute, and of the Foundation for Religious and Educational Exchange, Inc.
Dr. Roberts took an interdisciplinary approach to his work, insisting that the gospel of Christ speaks to all of humanity, and that Black Theology harmonizes with Christian theology, as he developed a constructive role for Black Theology, emphasizing that "Christ the liberator is likewise Christ the Redeemer." He was unflagging in his commitment to reconciliation and dialogue throughout his distinguished career as theologian, peacemaker, and activist, calling for Christians everywhere to live as "agents of reconciliation," overcoming estrangement, mending fences, and breaking down walls of separation between human beings.
In addition to all these well-deserved accolades, Dr. Roberts will be remembered by those of us who were members of the Eastern Baptist Theological Seminary family as our beloved, if occasionally forgetful, neighbor down the hall at 6 Lancaster Avenue, where he often lived for several days each week. 
One icy winter evening, Dr. Roberts was returning from Bible Study at a local church, and was surprised to see everyone standing outside in our short sleeves, shivering, as firefighters searched for the source of smoke billowing out the upstairs windows and down the halls. We told him that we couldn't go in until the all-clear was sounded. The offending (incinerated) potato was found and brought outside, at which point Dr. Roberts said, "Oh, my, I knew there was something I forgot to do..." We all, including Dr. Roberts, began to laugh, because a) we were relieved, and b) the only casualty was his dinner!
Dr. Kimberlee A. Johnson, Interim Dean of Palmer Seminary shares: "It was a blessing to know Dr. Roberts even if for a short time decades ago while working at Eastern Baptist Theological Seminary. I will remember him as a gentle giant in faith and theological education."
Dr. Roberts carried himself with dignity, and treated others with consideration and respect. A quiet person, not given to outward displays of emotion, when he spoke, others listened, and what he said stuck with us. In the wake of deep personal loss, the death of his young grandchild, when asked what sustained him, he told us that the most important thing in life was to hold on to Jesus, no matter what.
He did that, and I imagine Dr. Roberts quietly reveling in the presence of the Savior he loved, and with whom he had walked throughout his long, full life.
It was our privilege to walk some of the way with him, to learn from him and with him what it is to "hold on to Jesus, no matter what." May we do the same for the people around us.
Dr. Roberts' beloved wife of 66 years, Elizabeth, preceded him in death on July 13, 2019. We extend our deep sympathies to Dr. Roberts three daughters: Charmaine, Carlita and Kristina; his eight grandchildren, his one great-grandchild, and to his entire family, as they remember, mourn, and celebrate the gift of life in this exceptional man.
"'Blessed are the dead who from now on die in the Lord.' 'Yes,' says the Spirit, 'they will rest from their labors, for their deeds follow them.'" Revelation 14:13 (NRSV