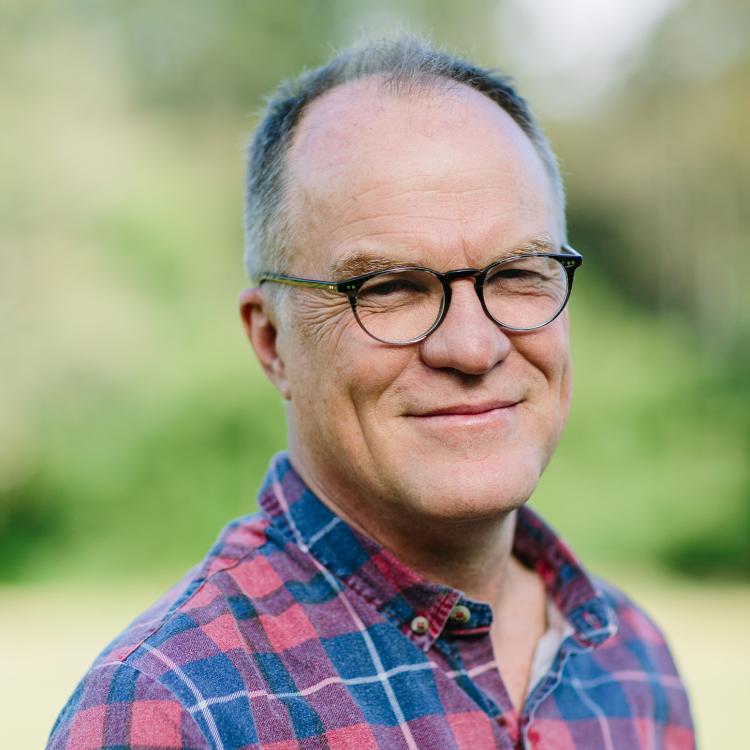 Wynand Johannes de Kock
Professor of Practical Theology and Director of Openseminary
Originally from South Africa, Dr. Wynand Johannes (W.J.) de Kock immigrated to Australia in 2004 to take up the position of Vice Principal at Tabor College in Victoria, where he was later appointed Principal in 2007. He completed this assignment in 2012. Since then he has been working with Indigenous Australians to do theology in context, pastors Liquid Church (Australia) and teach and directs the MPT and online MDiv at Palmer Theological Seminary
Wynand has taught at Berea Theological College, Chaldo Bible Institute, University of the Western Cape, Church of God Theological Seminary, University of Pretoria, University of Stellenbosch, Cornerstone Christian College, and Tabor College Victoria. He is a regular participant at national and international theological conferences. In his 2014 book, Out of My Mind: Following the Trajectory of God's Regenerative Story, Wynand explores the impact of God's story in times of uncertainty and doubt.
In South Africa, Wynand served for twelve years as the Dean at Cornerstone Christian College and Pastor of Bethany Fellowship in Cape Town. Prior to his move to Melbourne, he served on the pastoral staff of Common Ground Church in Cape Town. During this time he pioneered Openseminary as an alternative method of training leaders in the local church. His ministry involvement also included being associate minister of counseling, associate minister of children and youth, directing Beth-Uriel Home for Street Youth in Cape Town, South Africa, and leading a church plant in Melbourne.
Wynand has a great love of the church and a desire to see women and men equipped to respond to the call of God in their lives. He is married to Marianne and they have two daughters, Carmen and Zoé. He loves painting and enjoys exploring the place of art in the Christian life.
Th.D., Thesis title: Faith, Belief and Faith Development: A Fowlerian Interpretation of a Church in Crisis., University of South Africa
M.Div.: Church of God Theological Seminary
B.A., Honors (Greek Linguistics): University of Pretoria
B.A. (Greek, Biblical Studies, Psychology): Rand Afrikaans University 
Leitourgia: Leading People in the Presence of God
Diakonia: Missional Service
Paideia: Spiritual Formation
Theologia: Doing Theology in Context
Koinonia: Leading and Building Community
Kerygma: Communicating the Gospel
Local church ministry, leadership and human formation
Professional Associations and Services
International Academy of Practical Theology (IAPT)
The Australian and New Zealand Association of Theological Schools (ANZATS)
Out of my mind: following the trajectory of God's regenerative story (Wipf & Stock, 2014)
 "The Church as a Redeemed, Un-redeemed and Redeeming Community" in Toward a pentecostal ecclesiology: The church and the fivefold gospel. Ed. J. C. Thomas. Cleveland: CPT Press, 2011.
 "The Relational God" In Zeal For God's House: Church Planting In The 21st Century.  ed. Jill Lawton. Hillcrest: Hillside Church, 2006.
 "fowler on Faithful Change" Scriptura 72 (2000:1)
 "Empowerment Through Engagement in South African Context" JPT 15 (1999:2)
"South African Pentecostals and Ecumenism" Studia Historiae  Ecclesiaticae. 22 (1996:2).
 "A Response to Poewe-Hexham and Karla Hexham" in All Together in One Place. eds. Harold Hunter and Peter Hocken. Sheffield Academic Press, 1993.
"The Faith Development Theory of James Fowler and Paradigm Shifts of a Church in Crisis" in Relevant Theology For The 1990's, ed. J Mouton. Pretoria: Human Science Research Council, 1992.
 "James Fowler and the Intuitive-Projective Faith of Early Pentecostalism" Azuza 2 (1990)
 "Encounter with God: Implications for Behavioural Change" Pneumatikos 2  (1989)